Sometimes, we don't set the password on purpose, but the iTunes sets the backup password automatically. Actually, the safari settings are linked to the iTunes store brower, so there is a chance that iTunes may set password automatically. Enabling the cookies again fixed everything and you can login no problem. With this way, your iPhone backup password may be found.
To enable cookies in safari, open up the preferences and go to the privacy tab then change the "block cookies" settings. After that, you should be good to go.
However, what if you want to set a password to secure your iPhone backup?
How to Encrypt iPhone Backup Password?
If you store a lot of information on your iPhone and you want to keep private. You might be interested to know that the backups from iTunes can be encrypted and be dug through rather freely, furthermore restoring the device and seeing all your data is just a matter of clicking the restore button.
If you'd like more security with your iPhone/iPod/iPad backups, be sure to enable the encryption feature in iTunes.
* Connect your iPhone/iPad to your computer and select the device in iTunes
* Click on the 'Summary' tab
* Scroll down to "Options" and click on "Encrypt iPhone backup"
* Select a password at the prompt
* Click "Set Password"
Now all of your backup data that is stored locally will be encrypted, which is indicated by a padlock icon. From this point forward, if you are restoring your iPhone or iPad you will be required to enter a password, and the data is no longer freely accessible by anyone with access to your machine.
I would highly recommend enabling this feature if you have sensitive data on your iPhone/iPad, or you sync your device to a computer that is not under your own control: like a work or school machine. But remember the password is a confusing thing. So what if you forgot the password?
Don't worry, iPhone backup password recovery is here for help.
How to Disable Apple Backup Password?
After the several minutes' download and installation of iPhone Backup Password Recovery, you can perform to disable your iPhone backup password following the below steps:
# Step 1: Import iTunes backup file. In the main interface, press "Open" button to complete the encrypted backup file importing.
# Step 2: Choose a right attack strategy accordingly. Three attack types are provided in the program. They are generally Brute-force Attack, Brute-force with Mask Attack, Dictionary Attack.
If you can still remember something about the forgotten iPhone backup password, please choose a suitable attack type to minimize the search time and enhance password recovery speed. Detailed description of the three strategies is as follows:
– If you choose "Brute-force Attack", the program will try all possible combinations by default, no need to define any setting. But this attack will take longer time.
– If you select "Brute-force with Mask Attack", you need to click "Settings" to define the settings such as password length, character set and affix set according to the clues about the password.
– If you select Dictionary Attack, you also need to click "Settings" to move forward.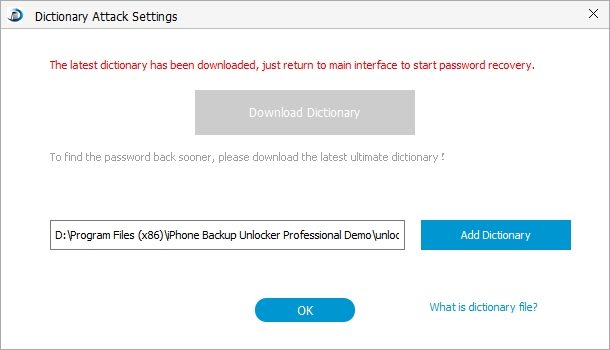 # Step 3: Start to disable the forgotten backup password and get the password in the File Opening Password Box.
In this step, you need to click the "Start" button to begin the password disabling. During the process, you are allowed to stop by pressing the "Stop" button, and then you can save the project to continue next time or to end the project.
If the operation is continuous, within several minutes or seconds, the password is displayed in the Fie Opening Password Box.
Watch the video iPhone Backup Unlocker to get plain operation.
Tagged: disable iTunes backup password, unlock encrypted iPhone backup